You are invited to my Christmas Studio sale 12.th &13.th of december 11-16 o'clock
My focus this year is on AT HOME
I have invited two artists that i cooperate with. Im pappy to welcome Mette Mailund Strong, painter and graphic artist. She will present her beautiful paintings and graphich art. Mette will be joining me at the studio the entire weekend. Here she will explain and talk bout her work.
My other guest is Pia Jensen from Copenhagen. her studio is at Væveværkstedet in Smallegade. She will present a few handwoven carpets and some plaids and scarfs all in wool, merino wool and baby alpaca. Be varefull you get addicted to her work, once you feel it in your hands.
Im also a guest or (my work is), at her  ChristmasStudio Sale the same weekend! So this is your chance if you are in the C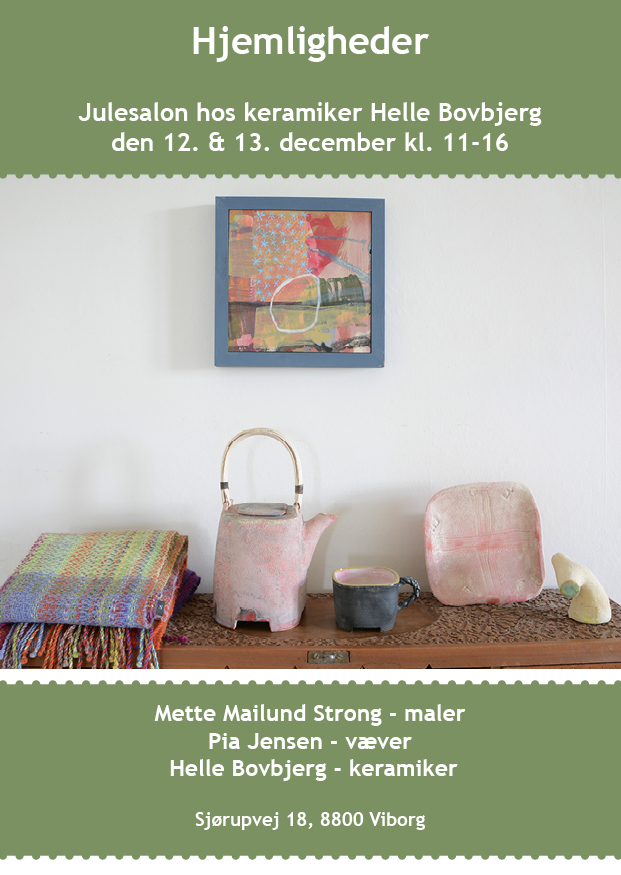 openhagen area this weekend. The Studio is at Smallegade 52D.
PS. At Sunday the 13. of december the band Our Secret Place Band from Aarhus is also guesting and giving a little concert at my studio.
A